Friday, July 29, 2005
having fun with kate on the critical mass ride
Posted by

c-record
at 8:47 PM
No comments:

went cruising through downtown with some peeps for the monthly critical mass ride. we didn't have alot of people, maybe 8-10 at the most but it was still fun. if you wanna join us, just meet up at the fountain on UNL city campus union, 5pm, the last friday of every month.
Posted by

c-record
at 7:35 PM
No comments:

Monday, July 25, 2005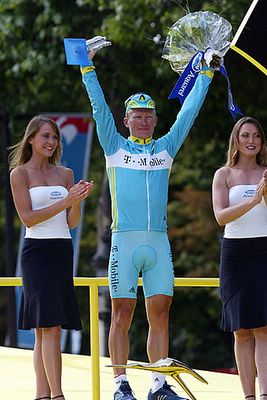 yes the tour is over and Lance chalked up his 7th. i think it was his easiest win though, and overall the tour was kind of boring. Ullrich was too content being runner up year after year... oh well, but atleast guys like Vino here stirred thing up a bit. he made the finale interesting with a gutsy move in the final km's to take the stage win right under the nose of the sprinters. nice podium babes too!
Posted by

c-record
at 1:43 AM
1 comment:

Tuesday, July 05, 2005
yep, the Tour is on and I've been following it as usual. Stage 4 crash...
a good example why a racer shaves his legs
. I wonder how the race will be this year; either a boring 7th win for Lance (no, i'm not Lance fan), or a truely exciting race with some real attacking going on. I'm kind of hoping Vinokourov surprises everyone and wins it all.
Posted by

c-record
at 11:52 PM
No comments: